Hello
First of all, can anyone tell me if the chat box during a call or video can be relocated, or is it anchored to the bottom of the screen?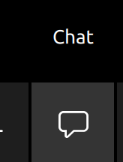 Secondly, if it is anchored, could I make a feature request to the developers, please, to allow it to be located to the side as well?
This will help readability of messages during a call or video session.
Many thanks.