Lots of questions of basic concepts which is not described in Q&A.
I found the text explanation / description in UI (No matter in GNOME or Android client) are VERY HARD to understand for non-professional user (such as me…). If can, I want to contribute this project in UI UX, to improve the text descriptions in client and Q&A in official site.
However, before that, my concepts and questions need to be clarified first, I want to know the true expected behaviours of Jami.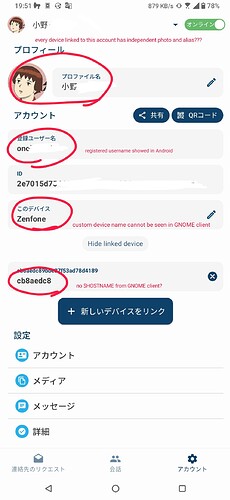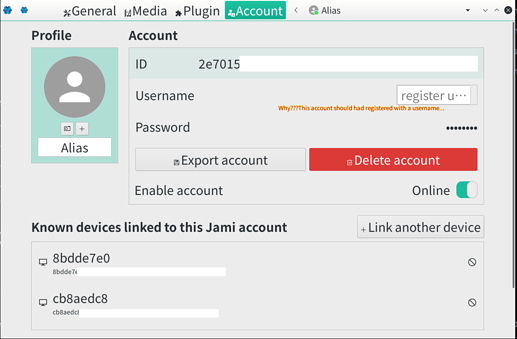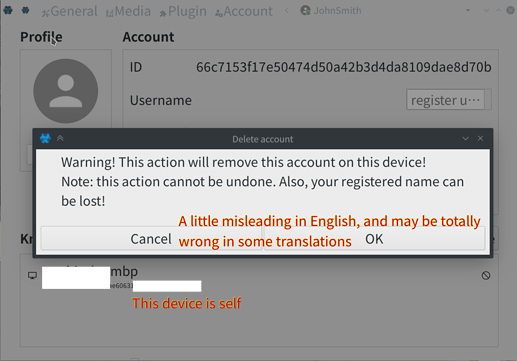 GNOME client:
Welcome Page
"Create a Jami account" -> "Register username" will register this username to Jami officially maintained server?
If register username, anyone can find me via official Jami server by username?
What the Jami official server do is to:
(a) Let user register username, which let user search other users via username.
(b) Generate PIN code for link account to new device.
"Delete" Accounts
"Settings -> Account -> Delete Account" actually delete the account from this device only, instead of simultaneously deleting the registered username from server, right? (This issue probably isn't severe but it exactly exist in some i18n translations… the "can be lost" is wrongly translated to "will be lost")
If so, the description "Warning! … your registered name can be lost!" is very misleading. "Unless you've backed up your account or transferred to another device" would be better? (Android version's warning message is quite different, which just says "delete account from this device".)
Restore Account
In a new device, after restoring a account (username is registered) from backup
username input is empty in GNOME client…
alias must be inputted again? What if different devices set different alias?
photo must be set again? What if different devices set different photo?
existing contacts cannot sync from existing online device?
Cannot see correct $HOSTNAME in "linked devices" list in another Android device.
Android client
When restoring account, existing contacts cannot sync from existing online device?
After restoring account in all devices of mine, the text messages I sent from one of my devices cannot be sync to all other online device?
General Issues
Account
QR code is only used for adding contact, instead of linking own account to own devices?
Profile
Why different client can set different (a) profile photo (b) alias ???
Backup file
Contacts seems not to be included in backup file, so… can user export contacts for backup?
Unlike Android version, GNOME client cannot set current device name.
Registered username
A registered username cannot be changed anymore.
A registered username cannot be deleted from server anymore.
A registered username can be searched by anyone, via search box.
Sync (between devices)
Contacts
There's no way to sync, or transfer contacts from device to another device?
Existing Text Message
User cannot sync existing text messages from another online existing device?
Incoming New Text Message (This behaviour is too incomprehensible…)
Assume:
I have device A, B, linked with the same account.
Another user Z
A, B, Z are online.
If "A" sends some text to "Z", "Z" can see the text. but "B" cannot see what "A" sent?